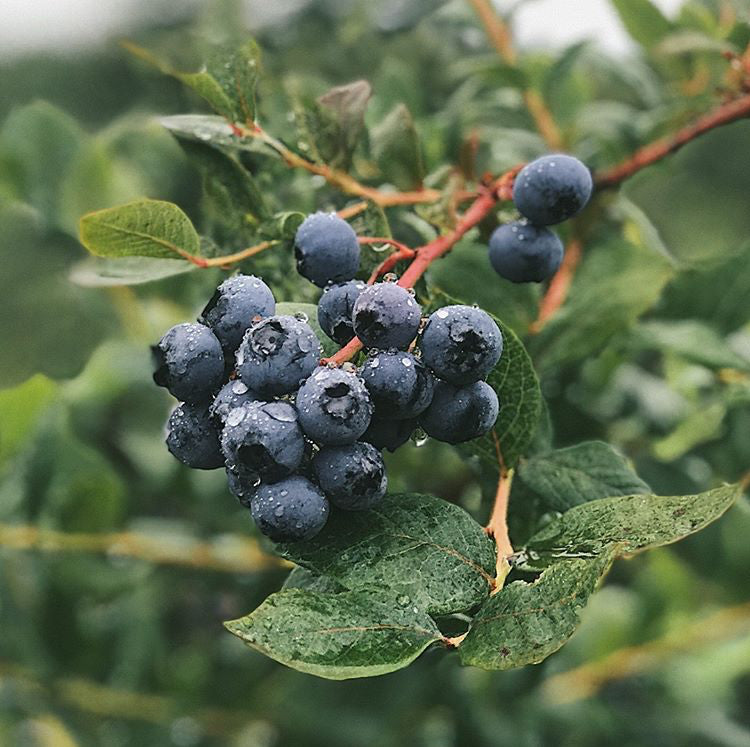 Blueberries Here, Blueberries There, Blueberries Everywhere
Written by guest blogger, Paisley Hansen
...
There's more than one way to get your hands on blueberries.
The typical way: Head to a supermarket. I don't need to describe that experience for you — you already know it's a chore.
The better (dare I say best) way: Head to Bow Hill Blueberries! During blueberry season, you can walk among the berries, breathe in the fresh air, and pick berries with your own hands. And/or you can visit their farm store and grab some blueberries they've already picked. When you browse through the shop, you'll see their pure heirloom blueberry juice, heirloom blueberry powder, pickled heirloom blueberries, and more. They use Certified Organic blueberries to make delicious things you never even thought of before.
What Makes Bow Hill's Blueberries Special
Bow Hill is passionate about blueberries. You can probably tell — blueberries are all they grow. When they daydream, they daydream about wonderful things they can make with their blueberries. Some of their products, like the pickled heirloom blueberries, have won multiple Good Food awards. Others, like their heirloom blueberry juice, have wound up in the restaurants of James Beard Award-winning chefs and won an award-or-two.
Bow Hill also thinks a lot about the people who come to the farm. They want you to feel good about your food and where it comes from. They want you to enjoy your blueberries the same way you enjoy a bite of fine chocolate. They want you to know that, when you choose their organic heirloom blueberries, you're helping them enrich the land they use to farm them. That might seem like a lot to ask of the humble blueberry, but those are their goals and they are proud of the work they're doing. They also offer farm tours, even during COVID (those must be arranged online prior to arriving).
Before you try an heirloom blueberry, it can be tough to imagine how tasty they are. Once you do, however, you'll realize that blueberries from big chains taste like pale imitations. With Bow Hill's blueberries, you get more flavor and nutrients in the same blueberry-sized package.
What's in a Blueberry?
These superfruits are kind of adorable, with their plump shape and their vivid blue color. The color of blueberries is not incidental, though. The blue color comes from anthocyanin, an antioxidant that may help prevent cancer and heart disease. That's only one of the antioxidants in blueberries. They also have large amounts of pterostilbene, which can help prevent a variety of health issues. In studies, pterostilbene has been shown to have preventative properties in relation to heart problems, diabetes, neurological issues, and cancer.
Sure, there are a lot of nutritious foods, but with many of them, you have to eat unrealistic amounts before the nutritional value adds up. You only need one cup of blueberries (and really, how hard is that?) to get 32% of your daily vitamin K needs, 22% of your daily manganese needs, and 19% of your daily vitamin C needs. Recent research even suggests that the anti-inflammatory properties of blueberries might ease rheumatoid arthritis.
Heirloom & Local vs. Supermarkets
Not all blueberries are the same. Blueberries from the supermarket are bred to be visually appealing and hardy enough to ship. When fruits are grown and sold that way, nutrition takes a back seat. The growing methods of small farms, especially farms using natural heirloom plant varieties, are better for soil health. Healthy soil improves the nutritional profile of the fruit that grows from it.
In addition to the heirloom blueberries, Bow Hill grows Bluecrop blueberries. They're a natural combination of two different blueberry plants and have been around for over half a century. Unlike GMOs (Genetically Modified Organisms), Bluecrop blueberries were lovingly bred by hand, not in a lab. Their Blueberry Confiture and Blueberry Marinade & Salad Dressing are made from the Bluecrop variety.
The folks at Bow Hill think their blueberries are the best in the world. They may be a bit biased but, when you try their blueberries, they're confident that you'll agree with them.
 ...
Bow Hill is located in the northwest corner of Washington state, an hour south of the Canadian border and a bit over an hour from Seattle. They are open 7-days a week. Visit their website for more information: www.bowhillblueberries.com.
  ...
Written by guest blogger Paisley Hansen. Paisley is a loving mother of three children. Being a mother has been the most fulfilling part of her life. When she's not out with her kids, you can find her at the gym or curled up with a good book.