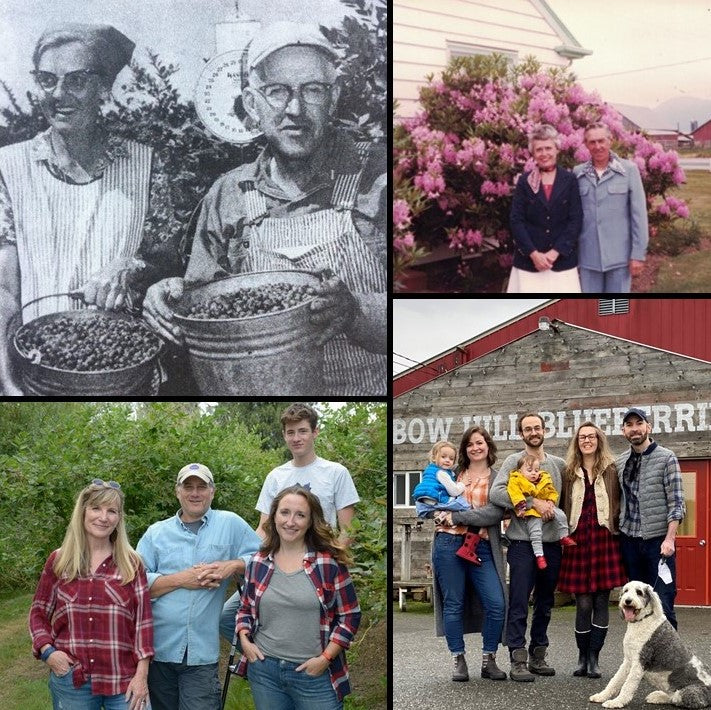 Handpicked Successors
Above image: all the families who have managed this land since it was first sold (clockwise): Ane & Severin Anderson; Dorothy & Gustof Anderson; Andrew& Audrey Matheson and Soren, Ezra, Emma, and Vera Ranz; Wylie, Amelia, Harley, and Susan Soltes.

The Soltes family took on the historic Anderson Blueberry Farm in 2011 as a project to rejuvenate the heirloom blueberry crops through organic practices, make its small plot of land sustainable through creating a line of value-added products, and keep its fields open to everyone. What they thought would take three years took nine and, has been one of the most gratifying things they've ever done in their lives.

And today, Harley and Susan have announced the farm's sale. "We both reached our 60s this year, decided that we'd met our goals with the blueberry farm and it was time to pass the farm to the next generation,'' said Susan Soltes. "Not our own children, but a like-minded young family that will take what the Andersons left for us and continue to grow it for the future of this community."

Of all the offers that came in, the Ranz-Matheson family was chosen by the Soltes family because theirs had a business mission that matched their own. The brother-sister team and their spouses showed an appreciation for what the Anderson family had started, wanted to continue what they had built, add some health products and summer treats, and create a non-profit educational arm to the farm. They were a fit. 

When Severin and Ane Anderson purchased the land in 1933, they could not have predicted that they'd end up farming blueberries and starting a 73-year legacy. They initially planted strawberries and goldenseal (a medicinal herb) and raised mink for fur and oil. When World War II broke out and rations were placed on gas and rubber, they had to exit the mink business as they were not able to justify the rations needed to travel to Bellingham to get food for the mink — their most profitable of the three crops. They survived off the income from strawberries and goldenseal for a few years. In 1947, a traveling salesman from the East Coast came by, hawking the first blueberry varieties to be brought in from the wild. They took the risk and planted Rubel, Stanley and Jersey varieties, making them the first in the valley to invest in blueberries. Soon almost every kid in the valley took a turn picking blueberries. In 1972, Severin's younger brother Gustof and his wife Dorothy took over. They created more jobs in the valley by processing blueberries for other farms that joined the blueberry bandwagon. Eventually Dorothy became the president of the Washington Blueberry Commission. Gus passed in 2002 and Dorothy ran the farm on her own until 2008 when her health failed.

Once the Soltes family took over, it took three years to rejuvenate the soil and become Certified Organic. In that time, they changed the overhead irrigation to a water-saving, under-canopy system, added solar to the warehouse, built a processing kitchen, and added two walk-in freezers. Their original plan hadn't included creating a suite of blueberry products, but with the help and encouragement of the Northwest Agricultural Business Center, they were awarded two USDA Rural Development Value-Add Grants. By 2016, they were selling their award-winning Heirloom Pickled Blueberries and Heirloom Blueberry Juice in addition to confiture, dried, frozen, marinade, and powder regionally. Now their specialty products are distributed nationwide. 

Each family member had a role. Daughter Amelia, a graphic designer, was the brainchild behind the branding; Wylie, their son, spent summers washing lugs and worked the farmers markets; Susan managed the finance, sales, marketing, and events; and Harley managed food safety, product development, and ran the field operation. But none of this was done alone. 

Over nine years, Bow Hill Blueberries has employed over 75 locals. Pablo Silva has been with them from the beginning. Today, 13 employees help manage the fields, and manage, produce, track, distribute, and market products year-round. In the summer, their pro pickers range from 6–12 people, mostly the relatives of Pablo that return each year. "It was very important to us that the next owners keep the current staff and recognize that they are the soul of the business," Harley said.

One of the Soltes' proudest accomplishments at Bow Hill was to help the Puget Sound Food Hub get its legs. For two years, they ran the aggregation site, brought more farmers and customers on board, and helped manage the back end of software. Now, the farmer-owned co-op is thriving and fully staffed in its current location on Best Road.

"I'm co-op member number No. 1," Harley likes to boast, but what makes him happiest is working with Skagit Valley farmers. "This is one of the most sharing, least competitive, creative group of people I've ever worked with." Before farming, Harley was a photojournalist for The Seattle Times. His wife, Susan agrees: "I was in advertising. It's creative but can be cut-throat competitive. The blueberry farm was just creative and healthy."

Meanwhile, the Ranz siblings, Audrey and Ezra, had been preparing, researching, learning agricultural practices, and looking for years for a small farm like the one where they had grown up. Ezra Ranz, a contractor, his wife, Emma, a sustainability engineer, and their two young children, Vera and Soren, along with their sheepadoodle, Saoirse, are from Bellingham and will soon be living in the Bow Hill farmhouse. Audrey Ranz Matheson, a former operations manager with French Girl in Seattle, and husband Andrew, a sports journalist with the NorCal Design Center, live in West Seattle and will commute to Bow for the time being. Ezra will run the fields with Pablo; Emma will oversee finance and sales; Audrey marketing and product development; and Andrew will be in charge of photography, website UX/UI, events, and tours.

What's next for the Soltes family? After a few days off, they will continue the farming projects they started on nearby farmland that originally brought them to the valley. It's located just four miles from Bow Hill Blueberries on the other side of Edison.

"Knowing Harley,'' Susan said, "he'll add an experimental component to what we've already got going. He's a voracious researcher and loves working with the team of scientists at WSU, Mount Vernon. For myself, I dream of a new e-bike so I can ride to Edison, enjoy the art, food, and friends there. Then make my way to Bow Hill for fresh berries, an ice cream treat, and when the pandemic is over, hug our surrogate kids who still work there. Then I'll grab a juice for Harley and ride back home." 

What they will miss most is walking the blueberry fields at sunset with their dog and cat, watching the seasonal changes. "There's something very calming about the symmetry of the rows, but I'm pretty sure we can create that feeling at the new place too,'' Susan said. "This is the Magic Skagit after all."