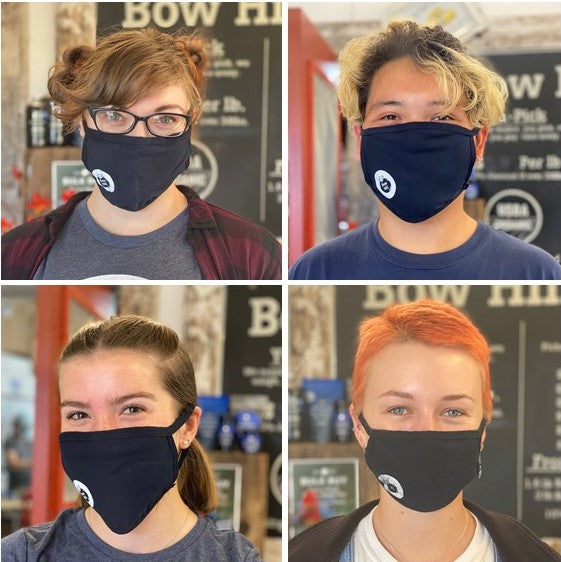 Meet Our Farm Store Crew
Get a glimpse under the masks of our farm store crew! We have Amanda (top left), Riley (top right), Rachel (bottom left), and Bay (bottom right). When not in the store Riley, Rachel, and Bay work our farmers markets and Amanda helps out in the warehouse. To learn more about these four all-stars and get to know them better, continue reading to learn about what brought them to Bow Hill and what it's like to start a new job during a global pandemic.
We asked them each four questions. See their answers below!
Where did you or do you plan to attend college and, if applicable, what did you study there?
Amanda: I have yet to go to college, but I would like to return for Art and Animation.
Riley: I'm a student at Western Washington University and majoring in Geography and Food Ecology.
Rachel: I'm attending the University of Washington in Seattle and majoring in Engineering.
Bay: I am going to be a senior at Western Washington University, and I am majoring in History.
Tell us a bit about yourself and what brought you to work here at Bow Hill?
Amanda: I am a freelance artist. After moving here from Post Falls, Idaho with my high school love, I noticed a lot of farms about. That's when I got the idea that it would be fun to work on a farm and see where our food comes from.
Riley: I wanted to work at Bow Hill because it seemed like an awesome opportunity to get to know the Skagit Valley better while being immersed in an atmosphere of great people awesome and unique products.
Rachel: I graduated from Mount Vernon High School this year and I wanted to work at Bow Hill because I love the small family farm style. It allows me to get to know my co-workers and be part of a local, all organic farm.
Bay: I wanted to work at Bow Hill as soon as I saw their stand at the farmers market last summer because I loved sampling the delicious juice and ice cream. That memory really stuck with me over time. Coming from out of state I also felt like working at a blueberry farm in the scenic Skagit Valley would be the quintessential Washington State experience.
What is your favorite Bow Hill product?
Amanda: My favorite is the Heirloom Pickled Blueberries atop French Vanilla ice cream.
Riley: My favorite product in particular are the Dried Heirloom Blueberries, which are perfect for oatmeal or mixed with cashews and almonds for some trail mix!
Rachel: My favorite product is the Heirloom Pickled Blueberries and I love to have them on my salmon or to just eat straight!
Bay: My favorite product is definitely the Heirloom Blueberry Powder, I love to bake with it and it adds such a fun pop of color. It really takes my blueberry pancakes to a whole new level!
What has been the most interesting thing about starting a new job during the pandemic?
Amanda: So far, the most interesting thing is getting used to new social norms, like no longer seeing someone's full face. Now it relies on developing new ways to connect with someone when you can no longer read their facial features. It's all in the eyes!
Riley: One of the most challenging and interesting things about working during a pandemic is still being able and trying to cultivate relationships and the learning experience to create meaningful connections though that.
Rachel: The most interesting thing about working during a pandemic is seeing how we all have to work together to keep each other, and ourselves safe.
Bay: During the pandemic I've learned that even though we are all masked up and distanced from each other it is still possible to make meaningful connections with awesome people. Between everyone I get to work with on the farm and all the vendors and customers I've met at markets I feel very immersed in a brand-new community of down to earth people, regardless of the current state of affairs. It has been challenging but very rewarding!
UNMASKED!