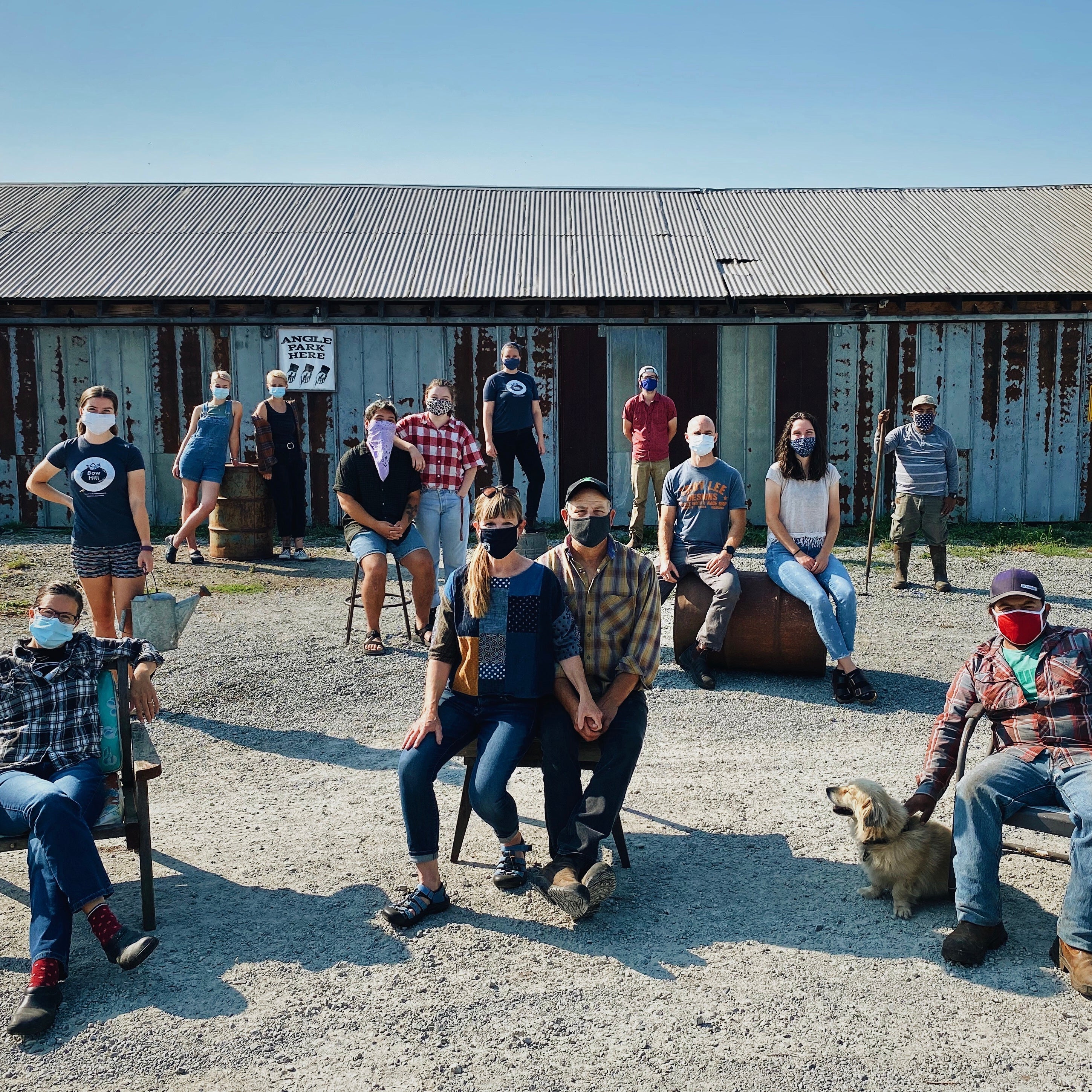 Our Amazing Summer Crew
We couldn't be happier with the work our summer seasonal and year-round staff did this season! Sure, it was chaotic and we all stumbled once or thrice, but that's the world right now. Our remarkable crew rose to the occasion and adapted more than once this harvest season. From changes in markets and upping our sanitation practices to match the CDC guidelines, to our pre-order and pickup to role changes — we are so impressed.
As some of our staff embark on college for the first time (what a wild experience that will be!) and some head back to a new way of learning or to new jobs, we'll be resting (well, as much as any small business and farm owners can) and lamenting about this summer. We took three different photos when taking the above picture — one with masks (as shown here), one with our arms out to show that we were all 6' apart, and one without masks (since we were in open air). Bay, new this year and picture leaning on the barrel in the back left, said "Wow! Nice to see all of your faces. This is the first time I'm seeing all of them since I began working [at Bow Hill]." That was a great moment.
Thanks again, those of you leaving, your energies will be missed on the farm! Stay in touch, Harley and Susan
Pictured from left to right: Dayna — product production manager; Rachel B. — store and market staffer; Bay — store and market staffer; Hannah — store and market staffer; Riley — store and market staffer; Kelly — harvest & warehouse assistant; Susan — farm co-owner; Rachel P. — community engagement manager; Harley — farm co-owner; Miles — warehouse and harvest assistant; Justin — kitchen manager; Kaylee — warehouse lead; Douglas the Dog — official farm greeter; Eddy — harvest and field crew; Pablo — field manager; Kayli — farm administrator  | not pictured: Amanda — packing assistant; Chad — warehouse assistant
Most of our harvest crew has gone on to pick blackberries or harvest potatoes, the next crops in the Skagit year-round cycle, hence why they are absent from the photo, though without them, there is no way we could have provided you all with so many berries this season.