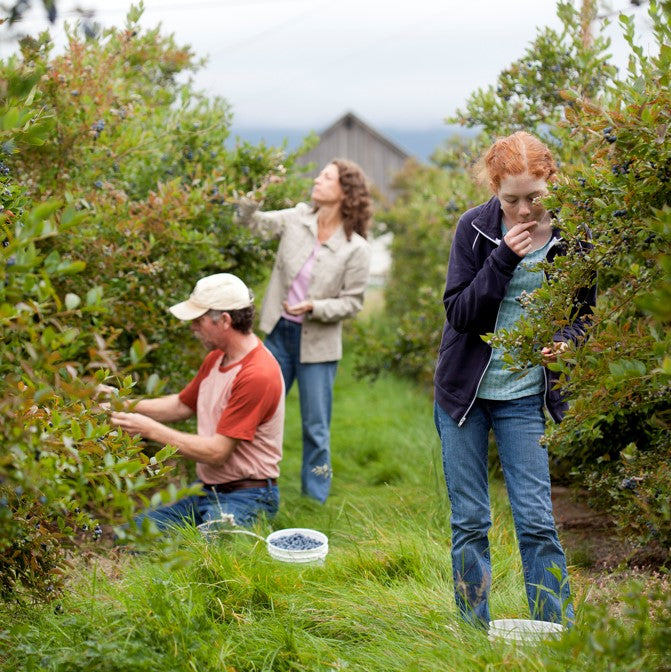 You-Pick 18 Opening Soon
If you love to you-pick at Bow Hill Blueberries this year is going to be great! The bushes are really full, we believe this might be one of our best years ever.  We predict the berries will be ripe and ready mid-July. We'll let you know as soon as we do!

 The farm store is open every day in the summer with fresh berries, Bow Hill Blueberry Ice Cream, from Lopez Island Creamery and our new Blueberry Lemon Popsicles, made by West Coast Pops, in Bellingham. You'll also find our full range of blueberry products available.  You-Pick will be open Friday and Saturday from 10-6 and  Sunday 11-6. Last year we sadly got picked out on some Sundays, so this year we're opening up more rows.  How can we do this? We're not going to sell berries to one of our large corporate customers this season  because we'd rather these fresh plump babies go to you. That's how!  

A Grazing Pass gets you in the field to eat as much as you want for $5. If you put 10lbs in your bucket (which takes about 30 minutes) you get the Grazing Pass fee refunded. Win, win, right? Family Grazing passes for up to 5 immediate family members are $15 and anyone older than our bushes (71 this year) gets in for free. You can also buy a Season Grazing Pass for $15 and come as many times as you want.
OPENING DAY: 
Peak ripeness is weather dependent so check our website header and watch for FB and Instagram announcements for exact date.
PARKING: We have a circle drive way. Feel free to park on the grass or angle park in front of the tractor shed when no spaces are left on the black top. A handicap space is available right in front.