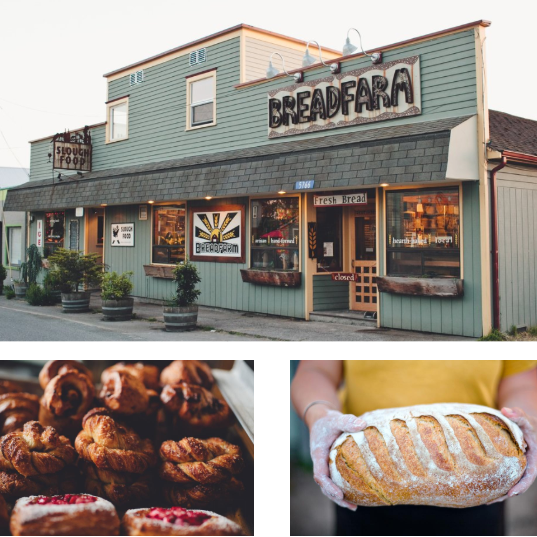 Meet Breadfarm
If you've ever visited Edison, then you know the wonderful smell of freshly baked bread that emanates through our one road town. As a small community, it's important to lean on one another and collaborate. The Breadfarm was one of our first partners and continues to be today. Each harvest they buy cases and cases of our heirloom Rubel blueberries – the baking champions – for their cakes, danishes, and cookies. But, we're not the only local farm they support, it's part of their philosophy to source locally and organic. They also take care of our greater community by making a point to support local programs with their tip jar. More on that later.
Meet the Mangold family. Scott's been growing his artisan baking career for many years around the world (thankfully for us, he's landed here in Bow-Edison) and Renée is to thank for their scrumptious cookies, rustic pastries, and savory treats. The blueberry cornmeal cookie is our absolute favorite.
Their community tip jar was started when a breadfarmers' house burnt down and they had the idea to set out a jar to raise money. Later, Edison Elementary School was in need of a new track and the jar is still raising money for that – people who've come into the Breadfarm have contributed more than $10,000 to that fund.
To learn more about the Breadfarm visit www.breadfarm.com.