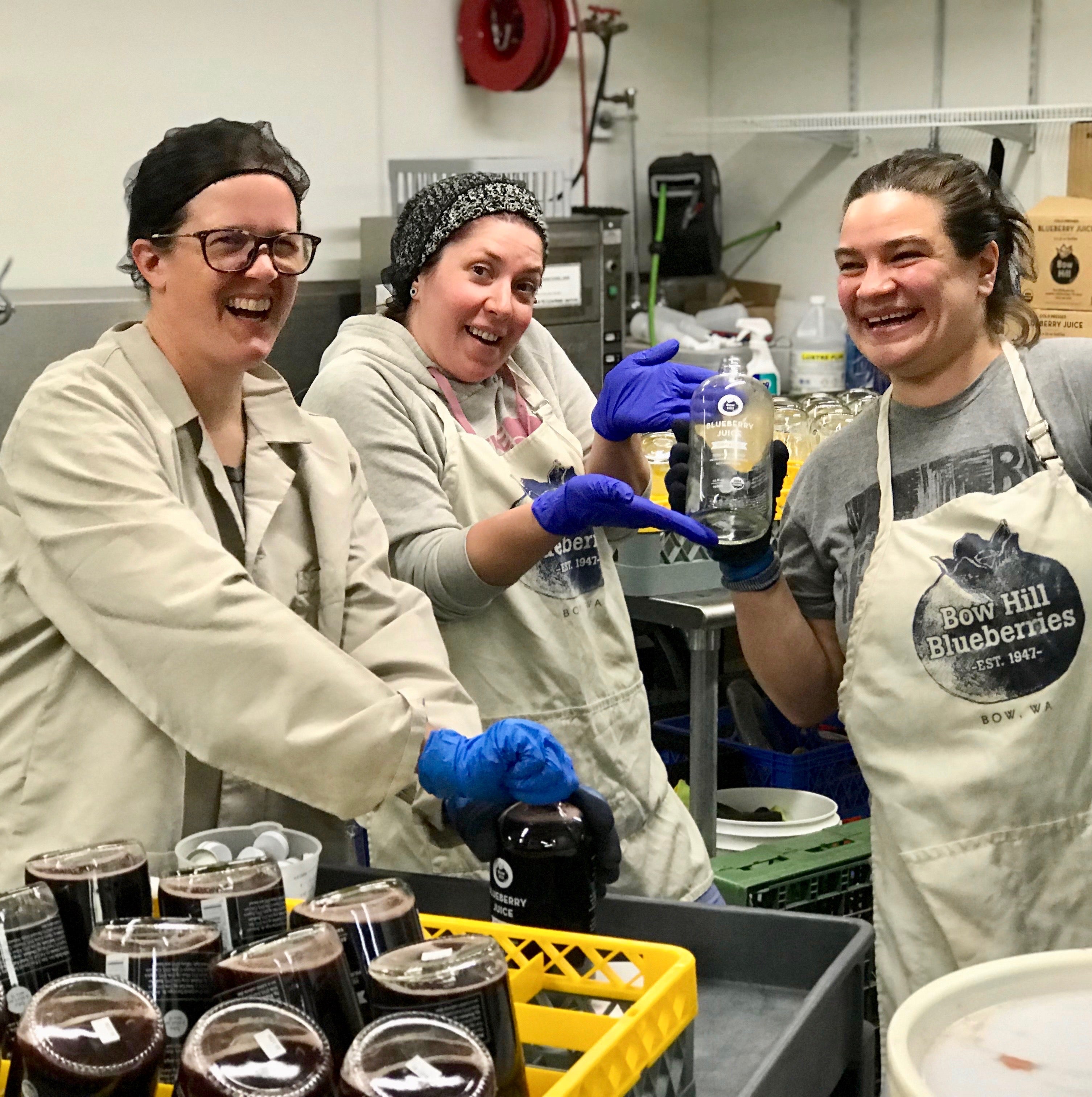 Meet the Production Team
On the left is Dayna, our operations manager. She is a numbers person with an infectious laugh who runs both the warehouse and kitchen. She helps in the kitchen on bottling day when Farmer Harley isn't available. We've done a story on her before so we're quickly going to move to the right.
Let's meet Arianne (pictured middle). After 12 years working in large warehouses, Arianne wanted to leave the big corporate life for a company that valued their community, employees, and sustainable, small, organic farming. When her resume came to Bow Hill, we quickly snapped her up. She brought a lot to the party and has been growing with us ever since. She became our kitchen lead a year ago and has hustled her buns off handling the production of accounts like Food 52, King Arthur Flour, and PCC markets. Now with the harvest fast approaching, Arianne said she'd like to move back to the warehouse/packing shed and lead us into the summer season. With her exceptional organizational skills and a great attitude, we couldn't be more thrilled.
Now entering stage left (AKA pictured right) is Caryn, our new kitchen lead. We first met and watched Caryn work as Chef Ryan's right-hand woman at our field dinners. Seeing her passion, we've had our eye on her for four years, hoping to one day work with her. She grew up in the area and has worked for many restaurants and bakeries in Edison. She even tried her hand at being a diesel mechanic for a few years. She's passionate about food and enjoys making products where "everything is hand made from start to finish. [Where]…care [is] taken to make sure that the products are the best that they can be every time they are made." She likes that everyone at Bow Hill has some role in getting the customer the freshest products they can.
Some fast facts about Arianne:
-She's into vintage Volvos (the women of the kitchen can talk diesel vehicles while they work)
-She has two kids
-Arianne's favorite products to enjoy are (yes, in this order): Organic Pickled Heirloom Blueberries, blueberries fresh off the plant, and Organic Heirloom Blueberry Juice!
-Her favorite to make is the juice (even with the hustle and bustle it takes)
 Some fast facts about Caryn:
- Her favorite product is the Organic Heirloom Blueberry Juice
- She's a volunteer firefighter
- She has a little blue heeler who loves to play Frisbee
-She's currently trying to teach herself silversmithing and to make glass marbles