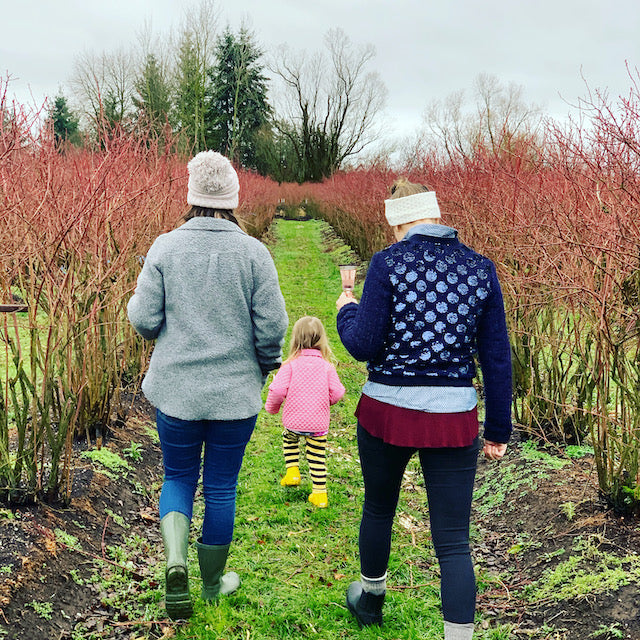 Women of Bow Hill - Past, Present, & Future
We're happy to say that throughout its 74-year history, Bow Hill has always been run by at least one woman and always had women on staff. It all began with Ane Anderson and her husband, the couple who planted the first blueberries on this land. [Fun fact: the blueberry plants here are the oldest in all of Skagit Valley and some of the oldest in the United States.] Ane had two daughters, Stella and Audrey, who helped their parents out a ton in their youth and still stop by to this day.
In front of the historic "Mink House" at the farm, Audrey is on the left with her sister Stella on the right.
Next it was Ane's sister-in-law, Dorothy, a total powerhouse, who after her husband's passing, ran the farm on her own for 6 years and also served as the Director of the Washington Blueberry Commission! Eventually, she sold the farm and put it in the hands of Susan & Harley Soltes, the minds behind the value-added line that Bow Hill makes to this day. Susan, along with her husband Harley, ran the business for 9 years. They transitioned it to Certified Organic, and Susan worked tirelessly building the brand. Her daughter, Amelia, designed both the original branding (raise your hand if you remember what it looked like) and eventually worked up the current branding on the products.
Background photo credit: Erica Rollins
In 2020, a year of upheaval and change, Emma and I became the newest sister-in-laws to help run Bow Hill Blueberries. But before 2020, there was a third Audrey who inspired our family's adventure into sustainable agriculture.
Audrey & Ezra's maternal grandmother, Audrey Dolores Prosser, on the family's Gravenstein apple orchard in Sebastopol, California in the 1920s
Our grandma Audrey was the eldest of the three Prosser daughters. Growing up in a farm family, she worked in the apple orchards and when she got older, she helped make deliveries of eggs and apples to the big city of San Francisco. During the Great Depression, our grandma lost her own mom when she was 16. As the big sister, she put herself through secretarial school so that she could get a job and help her younger sisters pay for their college. After college, her sister Jean was able to come back to the farm and help run it with her husband while also working as a school teacher.
The family farm and orchard continued to be a gathering place for our family as Ezra & I were growing up - making apple pies and processing apples for canning giant batches of apple sauce or dehydrated apple chips. We have a similar dream for Bow Hill to not only be a gathering place for our family but continue to be a place for community. We hope to see you all in the blueberry lanes or in some pie classes as soon as gathering is safe for all of us.