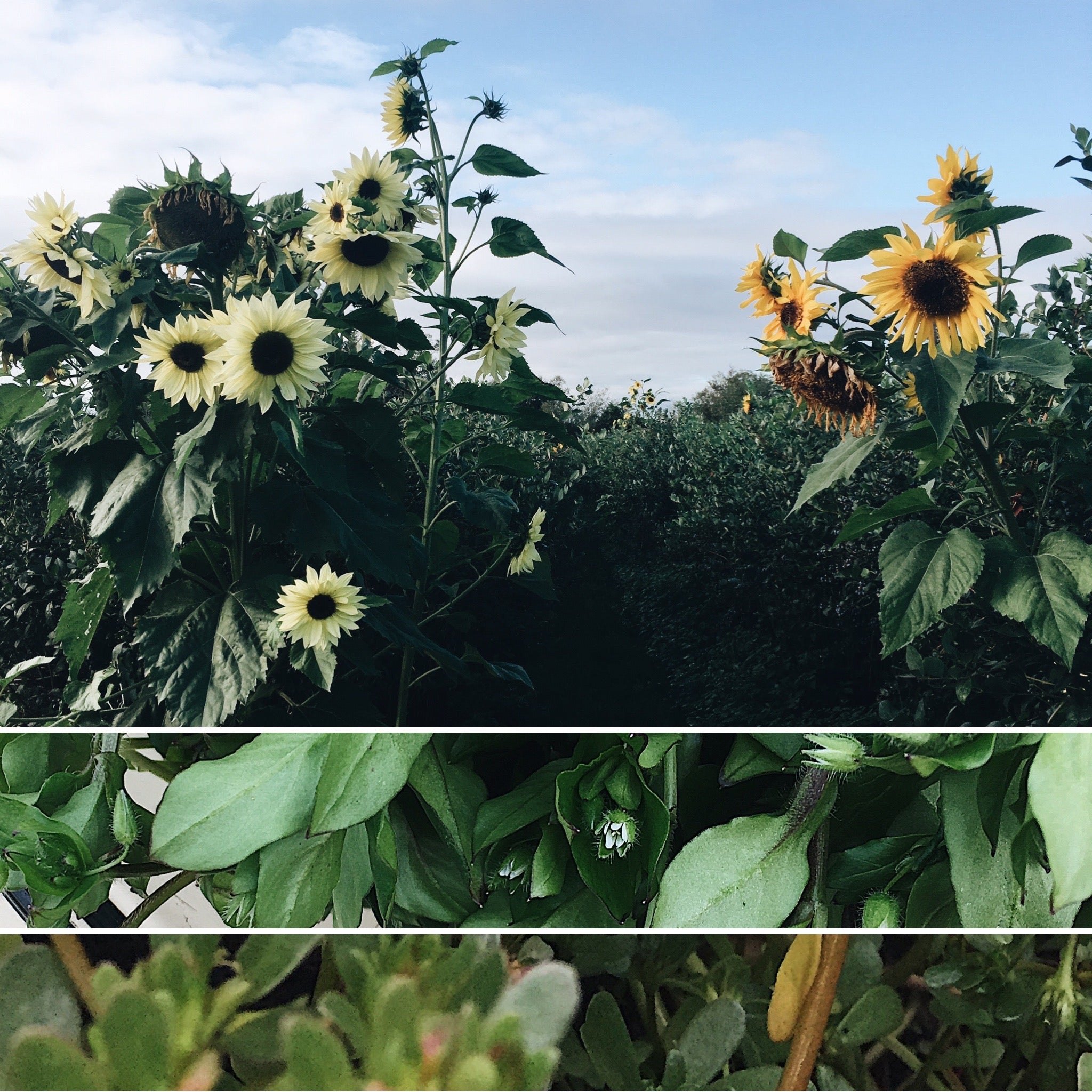 Volunteer Plants
Since March was technically going to be about "sustainable farming and what that means", we're going to take a little tangent away from the coronavirus for a bit and let you know about three volunteer plants that grow on our land: chickweed, purslane, and the ever-so-beautiful sunflowers (yep, that's right, the birds and little critters planted those, not us).
What is a volunteer plant? It's one that grows on it's own without any help, essentially "volunteering" itself.⁠ ⁠
Being a sustainable farm isn't just about organic practices and the environment. In addition, we feel it's necessary to use what we have. ⁠
First, we'll meet chickweed. This year it started popping up in the field mid-January and we are elated! This leafy green is full of beneficial nutrients, tastes a bit like spinach, and is a wild plant that can be tossed into salads, blended into dressings (mixed with our marinade & salad dressing it's a real dream), and used as a garnish (tacos anyone?!). If you have a yard in the PNW (other places as well), you likely have chickweed growing there — and, since most people are being encouraged to stay home, find yourself some to add to the next thing you need lettuce or cilantro for.⁠
...
Purslane is another volunteer! It's a succulent-like green that's widely used all over the world and we're lucky enough that it grows on our 6 acres. Since we're a USDA and WSDA certified organic farm, we can add any other crop (like Pablo's cultivated organic strawberries) to that list by applying for an organic certificate. At its peak season, purslane has dime-sized yellow flowers.⁠
Since so many chefs, the Latino, and Asian communities use purslane in their dishes, we went ahead and added it to the approved crops' list! For many years now have been selling certified organic purslane to regional chefs. Our crew is welcome to have it as an added benefit to working here. ⁠
⁠
Purslane has amazing numbers in the daily value category: 1 cup boiled contains 20% Vitamin C, 19% Magnesium, 16% Potassium, and 9% calcium. It can be eaten raw or cooked, and is especially great in cucumber, tomato, and purslane salads, cooked into spicy soups, or used in a stir-fry.⁠
⁠
If you're interested in buying this amazing vegetable for your restaurant, you can find it on the Puget Sound Food Hub site come summer.⁠
...
The last of the volunteer plants, and likely the most widely known by our customers, are the towering sunflowers intermixed in the blueberry rows. Driving towards Bow Hill in the summer and early fall, people see sunflowers well before they see the blueberry bushes.⁠
⁠
As mentioned earlier in the chickweed post, we did not plant any sunflowers on the farm. They were brought in as seeds by birds and on small critters' fur. They get so tall that, to maintain Bow Hill as a functioning blueberry farm, we have to weed some of them out.⁠
⁠
Along with you-pick blueberries, we also sell you-cut sunflowers and pre-cut sunflowers. We even toyed with the idea of producing organic sunflower seeds, but then realized we already do A LOT and didn't need to take on any more extracurriculars! ⁠
⁠
The bees love them, we love them, and so do our visiting customers. This summer, come cut your own organic sunflowers!⁠
...
QUICK QUIZ:
Can you identify which volunteer is which from the photo?