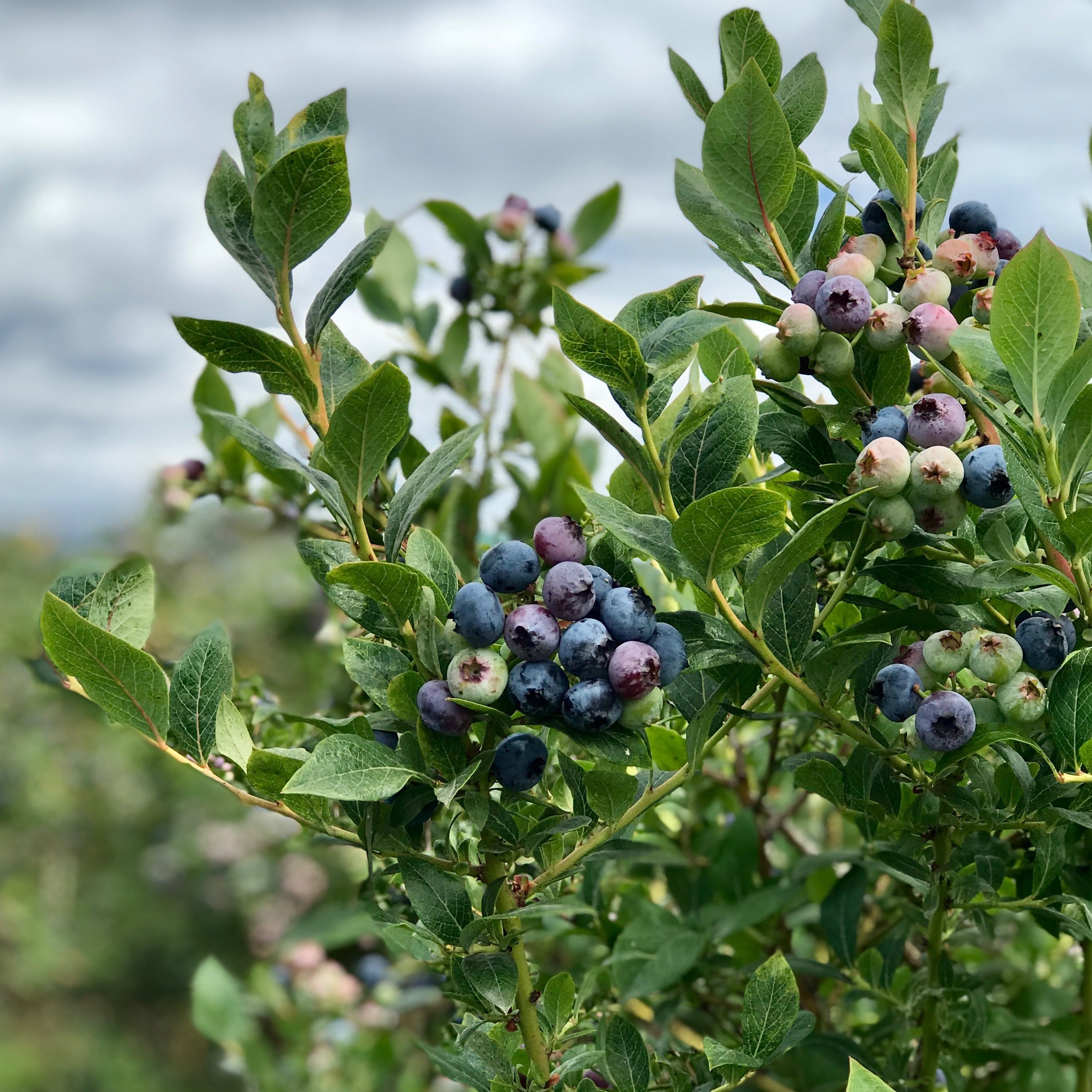 You-Pick Going Strong
Just ask anyone who has visited in the one weekend we've been open, the picking is great this year. We could hardly believe our eyes when one group came walking up to the store with buckets-upon-buckets brimming with organic blueberries. What a great reward for us to see our happy you-pickers!
There are still plenty of berries (there better be, we are a blueberry farm after all). You-pick happens each Friday, Saturday, and Sunday until the season is over (usually late-August/early-September). Check for day-to-day updates, blueberries cannot be picked wet (i.e., after a big rain), or else they split, and when the bushes have been heavily picked, we need to give them a break. This ensures that there is no harm done to the plants and that they don't get over picked (ultimately leading to healthier plants, hence, more berries the next year and so on). We'll still often have we-pick berries even when you-pick is closed.
The best way to get updates is by following us on Instagram, Facebook, and checking out our banner on our website (if you "x" out of it, then just reload the page). Visit our You-Pick page for more information on how you-pick works at Bow Hill.
Some quick Q & A's about Bow Hill you-pick
Q: How much does it cost? A: $3.55/lb
Q: Do I need to bring a bucket or bag? A: Nope, we provide them.
Q: So, what's the deal with the Grazing Pass? A: The Grazing Pass helps support the people-power and supplies it takes to keep the fields open to the community. The Grazing Pass gives you access to our fields and costs $5/person upfront. With it, we encourage you to eat as many organic blueberries right off the bush as you'd like. (No hand slapping here!) If you come back with more than 10lbs/person in your bucket, you get the $5/person back.
Q: How long does it take to pick 10lb of blueberries? A: If you're not eating as you go, it will take you about 20-30 minutes to pick 10lb.
Q: Is there a family grazing pass? A: Yes, for $15 a family of 5 has access to the fields and eating the smorgasbord of organic blueberries we offer.
Q: How do I pick blueberries? A: Gently comb your fingers through the clusters of berries, the ripe ones will fall off leaving the unripe ones on the plant.
Q: Can I bring my pets? A: No, USDA organic regulations do not allow any animals in our fields. However, we do have a fenced doggie area (owner assumes all risks).
Q: How do I get into the 30# club? A: You (collective "you" is fine) need to pick at least 30# in one session.
Q: Are there sweet treats for before, during, or after? A: Absolutely!