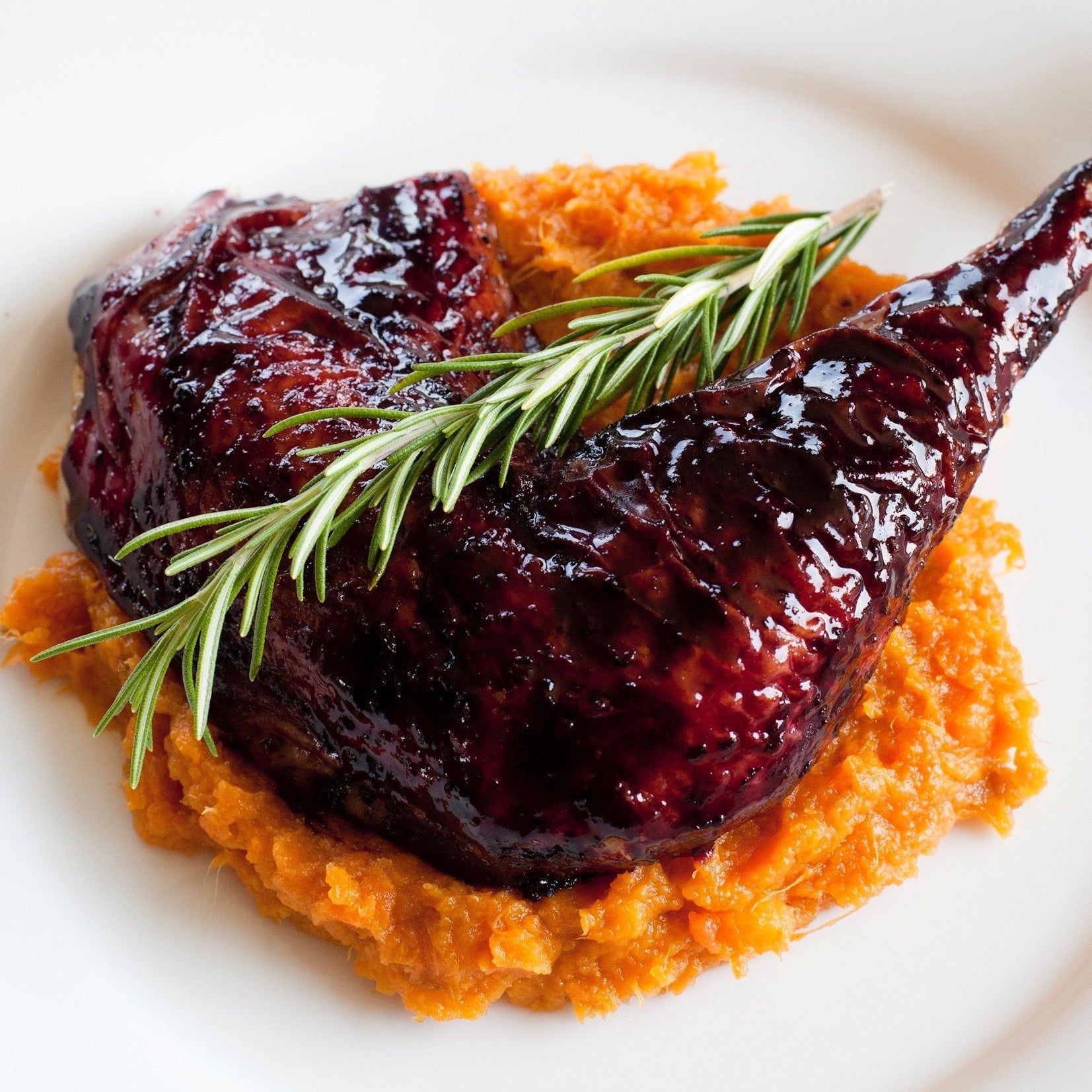 Bow Hill Blueberry Roasted Chicken
Yield: 1 whole chicken | Active prep: 10 minutes | Roast: 40-50 minutes
INGREDIENTS
1 organic, locally grown chicken fryer, approximately 4 pounds
1 ½ cups Bow Hill Blueberry Marinade & Salad Dressing
1 tablespoon salt
DIRECTIONS
Preheat the oven to 375°F.
Remove the chicken from the refrigerator one hour prior to roasting. Rub the skin and cavity with salt. Truss the chicken, place in a bowl and pour 1 cup of the marinade over the bird. Let rest at room temperature for an hour.
Place a rack on a foil-lined pan for roasting. To reduce smoke from the drippings and sugars, spread kosher salt over the foil, ¼" thick, under the rack.
Place the chicken breast side down on the roasting rack. Roast 15 minutes. Turn the bird breast side up, baste and tent loosely with foil. Check the internal temperature of the chicken at 30 minutes and remove the foil. Check the temperature again at 40 to 50 minutes. The chicken will be done when the temperature reads 160°F (it will rise another 5 degrees when resting), the meat is firm to the touch, and the juices run clear.
Remove from the oven and let rest for 15 to 20 minutes. Drizzle ½ cup of remaining (unused) marinade over the carved pieces prior to serving.
Products Featured in this Recipe
A sweet and savory marinade and dipping sauce for fish, fowl, or game. Simply baste protein while cooking. Mix into a dressing with oil or plain yogurt for greens, grains...