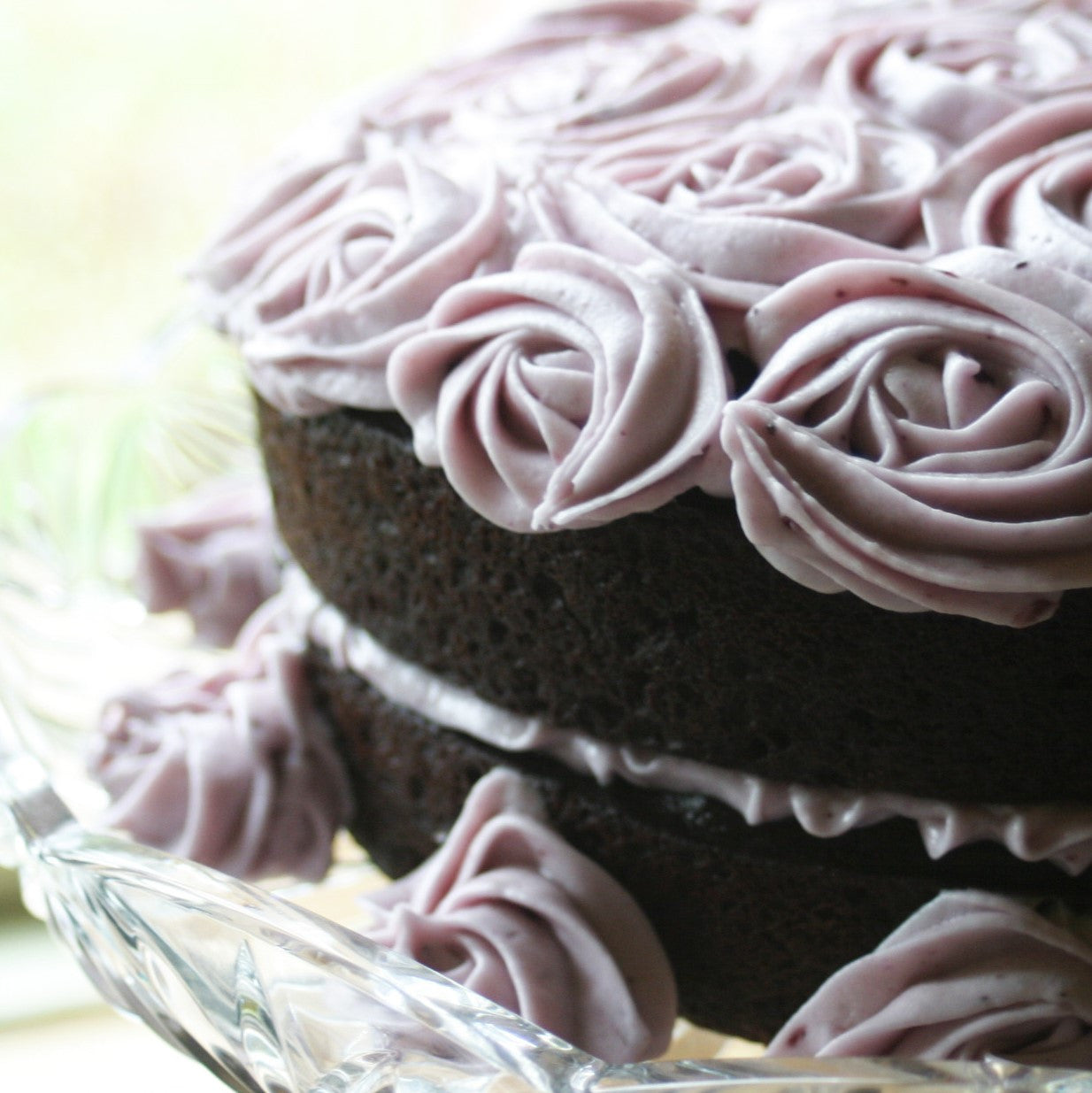 Chocolate Blueberry Beet Cake
CAKE
1 ½ cup buttermilk
1 cup oil
3 organic egg whites
3 teaspoons vanilla
1 ½ cups packed brown sugar
4-5 medium beets, steamed and pureed (to equal 3 cups)
3 cups organic pastry flour
1 ½ cups cocoa powder
3 teaspoons baking powder
3 teaspoons baking soda
¾ teaspoons salt
1 ½ cups chopped nuts (optional)
FROSTING
1 (8-ounce) package cream cheese, at room temperature
½ cup butter, at room temperature
2 cups powdered sugar
8 tablespoons Organic Blueberry Confiture
3 ounces Organic Dried Heirloom Blueberries, soaked in Chambord overnight (optional, can just toss a teaspoon of Chambord in or not)
DIRECTIONS
Heat oven to 350˚F
In a large bowl, combine buttermilk, oil, egg whites, vanilla, brown sugar, and beet puree.
In a separate bowl, mix together the remaining cake ingredients. Fold dry ingredients into wet ingredients, one cup at a time until just combined. Fold in chopped nuts.
Grease and flour two 9-inch round cake pans. Divide batter evenly into pans. Bake for 20 minutes or until a toothpick or knife inserted in middle comes out clean.
While the cake is baking, blend together cream cheese, butter, powdered sugar, and 4 tablespoons Bow Hill blueberry confiture. After cakes are cool, spread the remaining confiture on top of the lower cake layer. Stack the second layer on top. Frost cake with cream cheese frosting. (Can also make into cupcakes.) Decorate with soaked blueberries (if you have them).
Dig in and remember to share with friends.
Products Featured in this Recipe
Formerly known as our Blueberry Jam. Farm crafted from our Bluecrop variety, this low sugar and not too sweet fruit spread recipe has the perfect balance of cardamom...