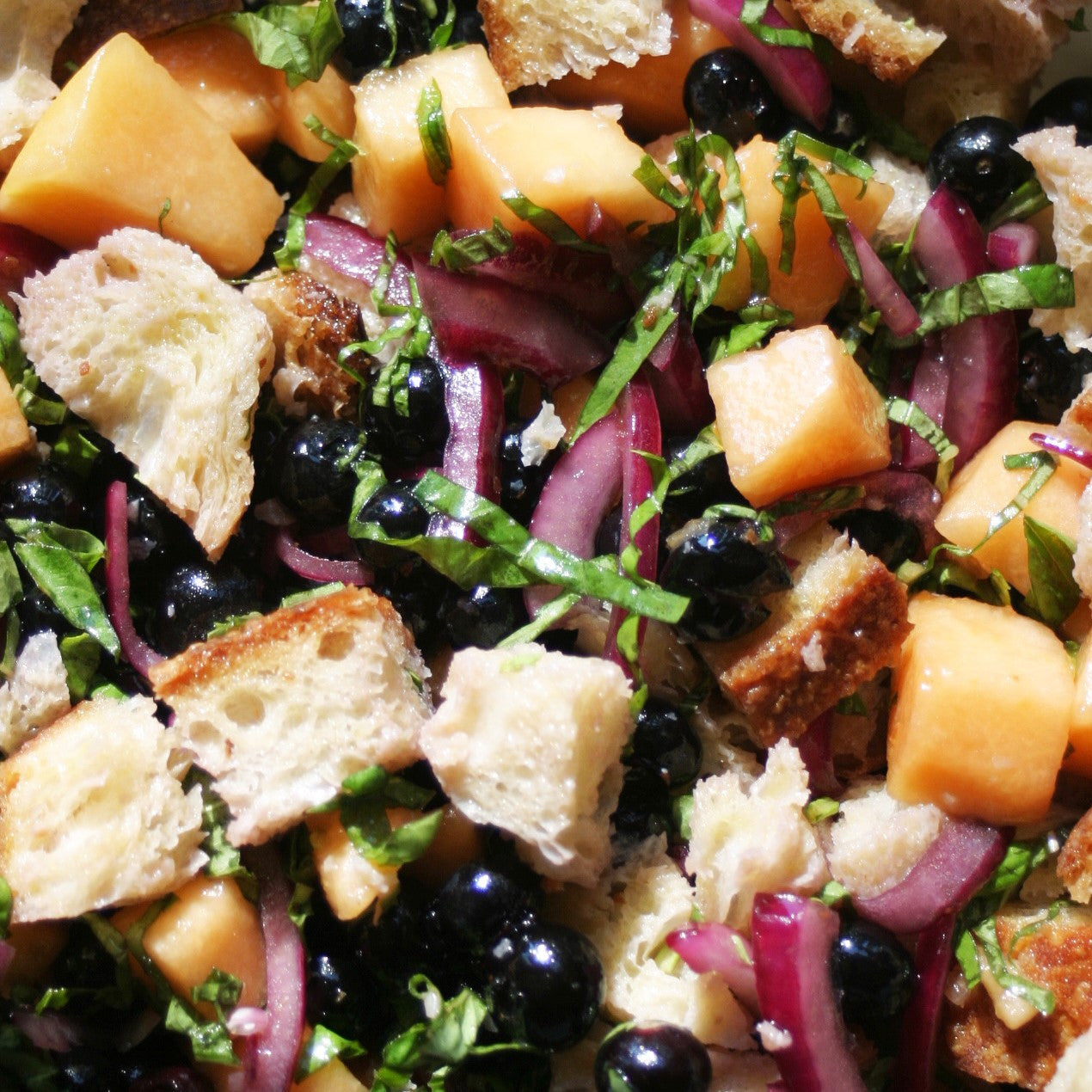 Cantaloupe & Blue Panzanella
"Waste not want not" – day-old bread is no exception. Ripe blueberries and cantaloupe are complemented by fresh basil in this cool, sweet and savory combination. Panzanella is a pleasant, summertime salad ideal for those hot days of July and August. 
Yield: Serves 6 | Prep: 20 minutes
INGREDIENTS
6 cups stale bread, ¾" cubed*
2 pints fresh Bow Hill blueberries (can use 1 jar Organic Pickled Heirloom Blueberries if fresh is out of season)
3 cups cantaloupe
1 cup basil, chiffonade
¼ red onion, thinly sliced
¼ cup brine from our Organic Pickled Heirloom Blueberries
2 tablespoon champagne vinegar
½ cup olive oil
1 small clove of garlic, minced
1 teaspoon salt
DIRECTIONS
In a small bowl, soak the red onion in the blueberry pickle brine. Let sit for at least 10 minutes.
In a large bowl, whisk the vinegar, olive oil, garlic, and salt. Add the onions and the brine. Add the remaining ingredients and toss well.
Let rest at room temperature at least 20 minutes prior to serving.
*Make sure to use day-old bread. It will absorb the moisture from the fruit and dressing while holding its shape. Fresh bread will become soggy and dissolves. If you don't have day-old bread, you can dry fresh bread out in the oven for an hour or so on a low-heat (between 170˚F and 250˚F, checking often).
Products Featured in this Recipe
A true whole pickled berry made from the Stanley variety delivers a crisp burst of tangy deliciousness that opens up with each bite. The perfect companion to artisan cheeses, deviled...