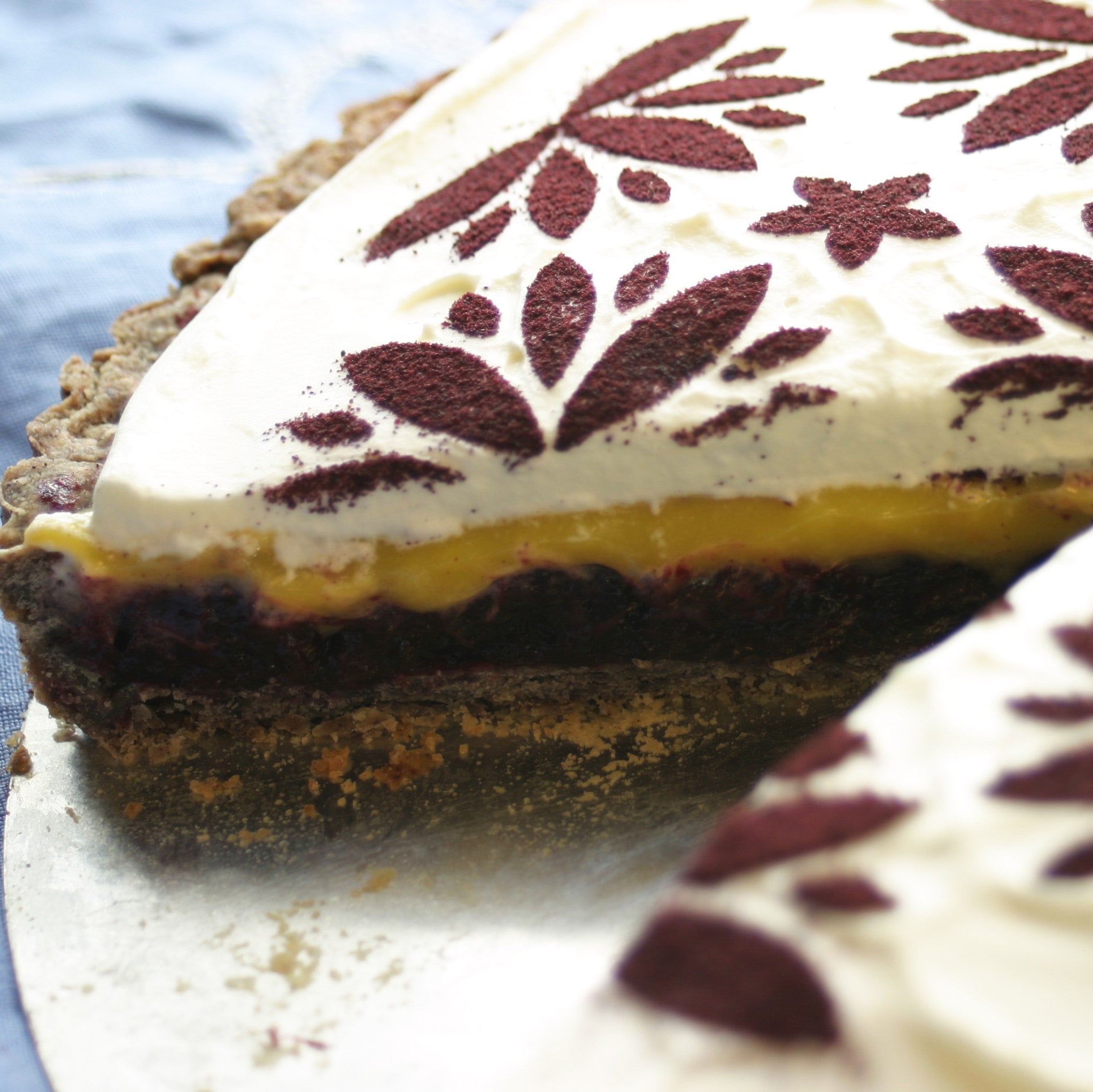 Lemon Curd Tart
TART SHELL INGREDIENTS 
1 1/2 cups flour or GF flour alternative 
2 teaspoons Organic Heirloom Blueberry Powder 
1/2 teaspoon salt 
1 stick unsalted butter, cold and cubed 
1 egg 
Cold water, as needed 
SHELL DIRECTIONS 
Pulse dry ingredients in the food processor or whisk/stir 

together.

Add butter and pulse or use a pastry cutter by hand to combine, do this until the butter is the size of peas.

Add the egg and additional cold water until the crust 

just

 binds (add more cold water as needed). 

Remove from food processor or bowl, combine into round ball, 

flatten

, and roll on its edge like a wheel (this helps it roll out evenly).

Roll to appropriate size and place in tart pan (can use pie plate or cake pan if you do not have a tart dish). 

Refrigerate 1 hour or until 

cold

.

 
Makes one 11-inch shell
FILLING INGREDIENTS 
1 jar Organic Blueberry Confiture
2 large egg yolks, at room temperature 
2 large eggs, at room temperature 
1/2 cup granulated sugar 
1/3 cup freshly squeezed lemon juice 
1/2 teaspoon grated lemon zest 
2 tablespoons unsalted butter, cubed 
FILLING DIRECTIONS 
In large bowl, whisk egg yolks, whole eggs, and sugar together. Whisk in lemon juice. Transfer to a double boiler (or nest a pot in another one creating your own double boiler). Cook over barely simmering water, whisking constantly until lemon mixture thickens to a pudding consistency (it should reach 170°F on an instant-read thermometer).

Remove the pan from heat and whisk in lemon zest and butter.

Spread entire jar of Blueberry Confiture on the bottom of the tart (or to taste)

Pour into 

cooled 

tart shell, smooth with a spatula.

Refrigerate overnight or at least 8 hours (until lemon curd is thickened and completely cold)

 
Makes about 1 1/2 cups filling 
If not doing the stencil top, simply dollop each slice with whipped cream and a sprinkle of powder). 
TOPPING INGREDIENTS
1-pint (2 cups) heavy whipping cream 
1/4–1/2 cup Organic Heirloom Blueberry Powder for dusting 
TOPPING DIRECTIONS
Blend, whisk, or use an electric hand-mixer to whip the heavy whipping cream. Do this until it's thick enough form gentle peaks. Try not to overmix or you'll end up making butter.
Dollop with whipped cream and sprinkle with powder!
To make your lemon curd tart look like the one in the featured photo, follow these OPTIONAL STEPS:
Spread over cooled lemon curd with clean spatula. 
Create a stencil (like the one pictured or design your own, very fun activity for kids) out of waxed paper and gently lay it on top of the tart or, better yet, have someone hold it taut over the tart. Lightly shake powder with a sieve (mesh metal colander), pouring in a little at a time, or use a spoon.
It's now ready to be served and admired!
Products Featured in this Recipe
A deep purple, antioxidant-rich, high fiber and nutrient-dense powder made from a blend of pure Rubel and Jersey skins. Users love it as an easy, nutritious boost to recipes complemented...