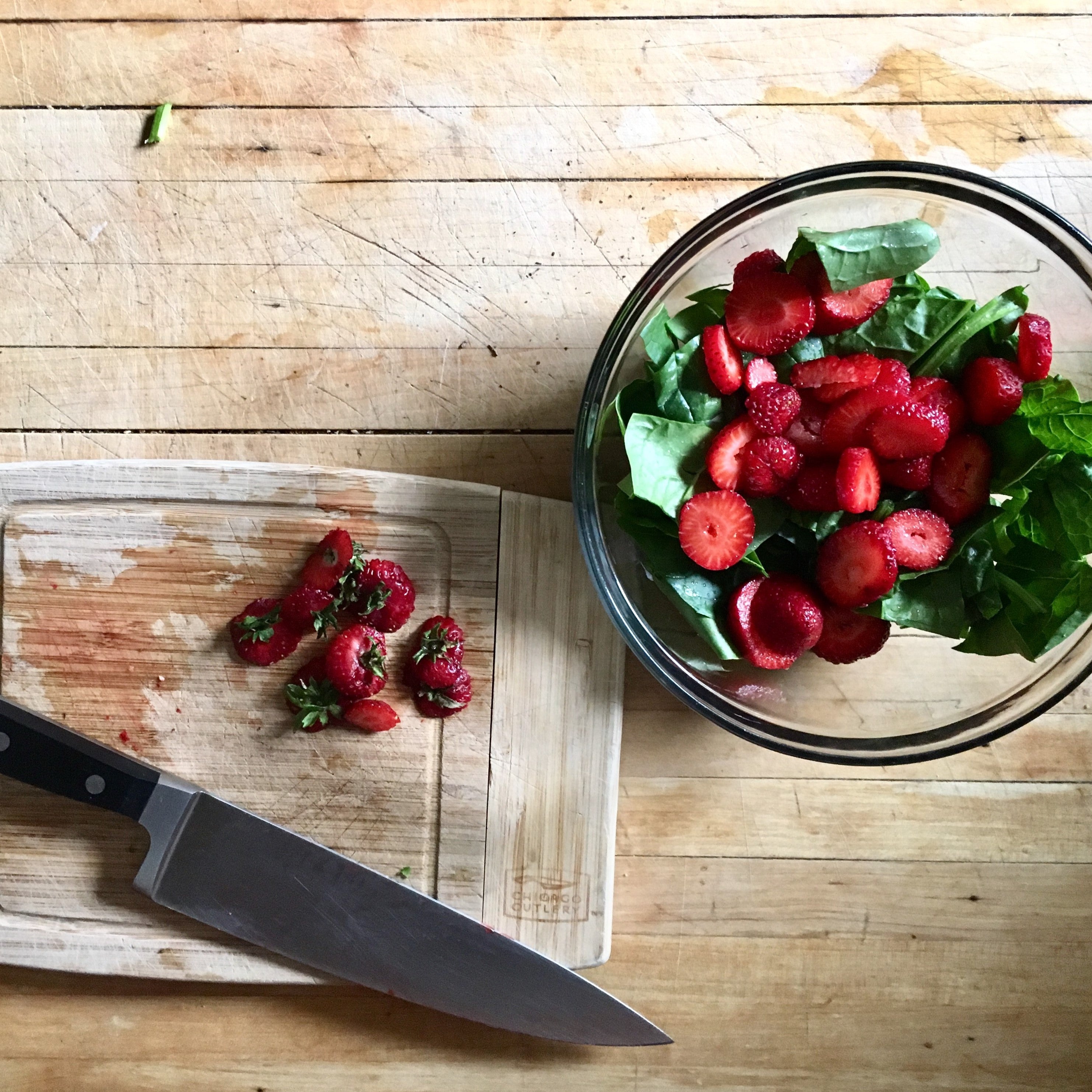 Strawberry, Spinach, and Balsamic Salad
Now that fresh strawberries are back in season and we have them for sale at our farm store, it's time to share a simple and decadent salad with you all. The colors are fantastic and it's certain to wow guests, despite how quick it is to put together. Can easily be scaled up for more.
Serves: 1-2 people
INGREDIENTS
Half-pint (approximately 10) strawberries
2-3 cups fresh spinach (a couple heaping handfuls)
1 tablespoon balsamic vinegar
1-2 teaspoon(s) brown sugar
1 ½ tablespoons olive oil
2-5 cranks fresh ground black pepper (or to taste)
DIRECTIONS
Rinse greens, rinse berries. Slice strawberries ¼ inch and roughly chop spinach (or if using baby spinach, leave as is). 
Please spinach in a roomy bowl and then scatter strawberries on top (for appearances, go ahead and hold some of the initial strawberries until serving as a garnish).
In a separate bowl or jar, pour in balsamic and brown sugar. Mix with a fork. Slowly drizzle olive oil into same bowl or jar and whisk with your fork or put a lid on a jar and shake until the dressing has thickened some and emulsified. Crank pepper to taste into the dressing and give a quick stir.
Pour dressing over salad and lightly toss. Then crank some more black pepper on top for taste and appearance. There you have it!
For added flavor, get some fresh goat cheese and crumble into and top again after serving.
This salad works wonderfully with our fresh blueberries, which arrive mid-July and year-round with our Organic Pickled Heirloom Blueberries.
Products Featured in this Recipe
A true whole pickled berry made from the Stanley variety delivers a crisp burst of tangy deliciousness that opens up with each bite. The perfect companion to artisan cheeses, deviled...