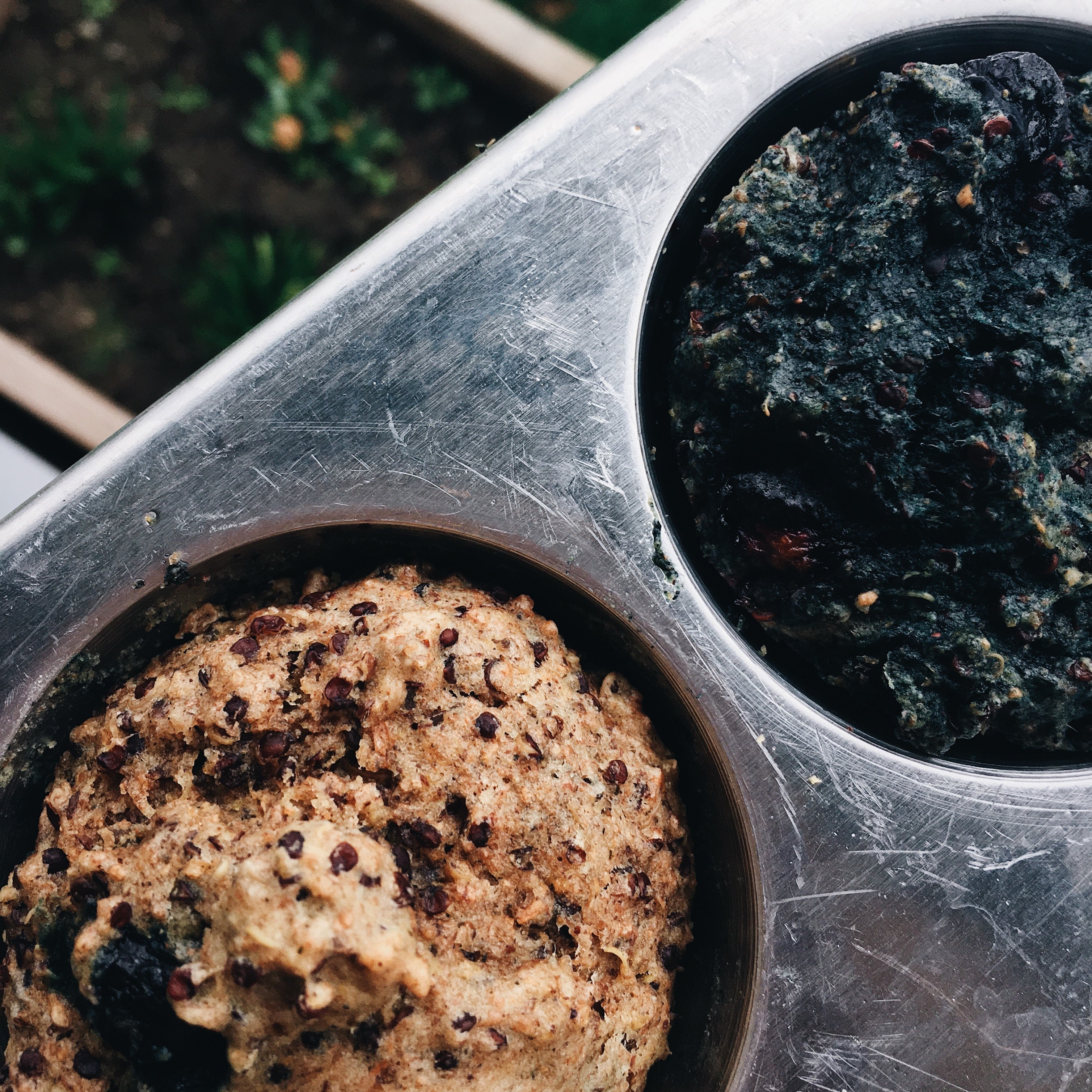 Almond-Quinoa Blueberry Muffins
We're taking you back to 2007 with an adapted recipe from "The Ultimate Vegan Cookbook: Veganomicon"! These muffs will knock your socks right off. They're nutty, soft, and have a light crunch thanks to the sneaky ingredient of quinoa.
Yield: 12 muffins | Prep: 15 minutes | Bake: 20–22 minutes
INGREDIENTS
1 cup non-dairy milk (we used homemade hemp milk)
1 tablespoon ground flaxseeds
1/4 cup mild-tasting oil (ex. sunflower, safflower, or canola), plus additional for tins
1/4 cup maple syrup or agave nectar
1/2 teaspoon vanilla extract
1 1/4 cups whole wheat or gluten-free flour
1/4 cup almond meal or flour
1 1/2 teaspoons baking powder
1/2 teaspoon baking soda
1/2 teaspoon salt
1/2 teaspoon ground cinnamon
1/2 teaspoon ground cardamom
1 1/4 cups cooked quinoa (we used red, but any color will do)
1/2 cup Bow Hill frozen or fresh blueberries
Optional: 3 tablespoons Organic Heirloom Blueberry Powder to add an extra antioxidant boost
DIRECTIONS
Preheat oven to 350°F and grease a 12-cup muffin tin. 
In a medium-sized bowl, whisk together the alt-milk and ground flaxseed. Allow to sit 1 minute. Next, whisk in the oil, maple syrup or agave nectar, and vanilla.
In a separate large bowl, mix wheat or gf flour, almond meal or flour, baking powder, baking soda, salt, and spices together. Add wet ingredients to the dry, mixing until just incorporated. Gently fold in the cooked quinoa. Then gently fold in the blueberries and, if using, blueberry powder. Carefully mix until all large lumps are gone.
Scoop the thick batter evenly into the greased muffin tins and bake for 20 to 22 minutes. Check doneness by inserting a butter knife into the highest part of the tallest muffin, if knife comes out clean, then you're done! If it comes out with some batter on it, place back in oven, checking every 2 minutes.
Let cool 10 minutes before removing from muffin tin. These should come easily out of the tins but if not, then circle the muffin with a butter knife and coax out.
Best served with a dollop of our Organic Blueberry Confiture. The cardamom in the muffins is amazing paired with the confiture. Enjoy!
Products Featured in this Recipe
Formerly known as our Blueberry Jam. Farm crafted from our Bluecrop variety, this low sugar and not too sweet fruit spread recipe has the perfect balance of cardamom...

A deep purple, antioxidant-rich, high fiber and nutrient-dense powder made from a blend of pure Rubel and Jersey skins. Users love it as an easy, nutritious boost to recipes complemented...